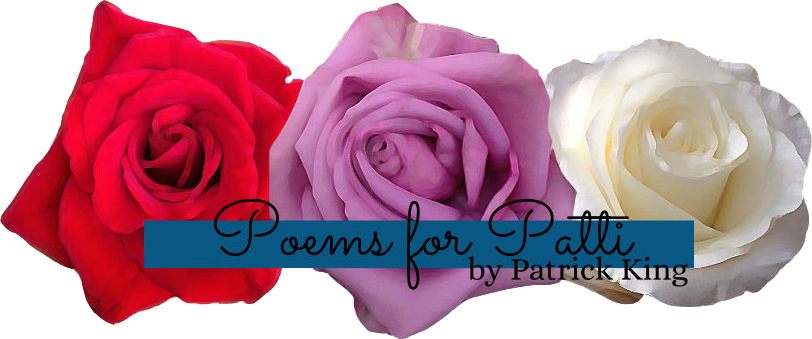 Love
Volume Eleven
CONTENTS
The Things I Do (Spellbound Wonder)
Brian Wilson, Vincent van Gogh, and Patti King
Happy Birthday Patti "Birthday Angel's Unseen Wings" (64th)
Rust Specs in Your Eyes Are Parts of Me
Volume Twelve
CONTENTS
Poem About "A Book Written of Love"
Moonlight Dreams 2015 (Sunshine Kisses Moonlight Goodbye 1970)
Beautiful Tunes of Loving You (Oscine Bird)
Patti's Love (45th Anniversary Poem)
Beautiful Sounds of Morning Delight (Oscine Sing)
Within My Mind the Wonders of You
Dual Timelines of My Existence (The Final Straw)
---
Volume Eleven
---
1968 "I Will Be Here"
Worry in my heart grows in bounds as I hold you near,
We watched over the city lights as I held you so dear,
Keep me in your heart to remember and I will be here,
With you in my heart maybe I can deal with war's fear,
I've learned that when with you I'm not good at goodbyes,
My will is fading to hold back tears, I'm not one who cries,
Hold my hand just a little longer while I look into your eyes,
I will be here once more I promise, I'm not one who lies,
For more than a year I've trained hard to make me strong,
My heart has told me for years, with you is where I belong,
But if I ran from the draft like a dodger it would be wrong,
My heart will cry out for you as I listen to every love song,
Hold me in your heart as tight as you hold my hand tonight,
I will keep you inside of me as I enter the hell of war's fight,
Hold my hand just a little longer before we kiss goodnight,
I will be here I promise to again hold you in the moonlight,
Take one last look at me my angel I may not return the same,
I pray you will love me if I should return home lucky but lame,
The battle I must enter is not a local high school football game,
I will return I promise, I will return to ask you to take my name,
Absorb the smell of tonight and every sound that you can hear,
I'll remember your essence my angel as I hold your photo near,
Memories of the sounds or odors are a bridge to bring me here,
I will be here when you need me, you see…..I love you my dear.
For Patti, I love you. Written July 28, 1968

---
The Things I Do (Spellbound Wonder)
You pull me into a shelter though unseen so strong,
With a whisper you lovingly say, "this is where I belong,"
And I have tried to breathe in air that has been in you,
It's one of the silly little things I've been known to do,
Your beautiful eyes open to world that I feel is my own,
Within your view there is a warmth only I have known,
When transfixed within your eyes I'm enraptured of you,
Of you there is a portal of incredible ecstasy I enter into,
Every day multiple moments of spellbound wonder occur,
As you open the door to enter my space I enter your wonder,
The wonder of you is not to be described with words known,
So many things become treasured memories of gold I own,
As we look into each other's eyes I open my mind for entry,
In hopes that someday you can witness the love within me,
At night as you lay upon my chest I feel the earth slip away,
Entwined we are a vessel of love sailing love's passageway,
I am so worn I've become rust yet near you for gold I lust,
You are treasure of gold, somehow you remove time's crust,
When spellbound wonder has occurred I've lingered there,
Deep in thoughts of little things such as the smell of your hair,
Yes I have lingered behind with reason of you I am behind,
Those things of you are golden memories held in my mind,
Memories of you are held dear and I retrieve some each day,
It's important that each day I treasure our past in some way,
At times to others I seem to have set sail to another place,
I will return quickly energized in heart and mind by your face,
Those are things I do that so many people don't understand,
Such as how an old man loses years at the touch of your hand,
My heart takes flight each time you smile at me through the day,
People say my facial response is of love but without a word I say,
If cute can be found in anything I do, I try to remember it for you,
I reenact it again for you, I'm so in love it's one of the things I do.
The end, by Pat for Patti.
I love you my beautiful little girl

---
I Am Daddy
Today I had an emotional response that amazed my soul,
It was so unexpected as I made headway on my workday goal,
The emails come in from businesses and those selling wares,
This particular email had but a word for anyone that cares,
Contained in all the emails I saw "daddy" in one just for me,
"Daddy" followed by my email address set my worries free,
The title Daddy means more than president or CEO ever could,
As I was suddenly overwhelmed with memories there she stood,
I could see the sweet little girl riding home with me long ago,
I regret that I was so engrossed in my work that I traveled so,
How much better could my relationship be had I been home,
I pray she and my son know working hard was all I had known,
Reality struck home when I was told I was gravely ill to soon die,
It wasn't for myself that I cried, it was lost time with them I'd cry,
And for her, my wonderful wife, I regretted every moment away,
As I reviewed my life with her in my arms I started to again pray,
My life has been nothing but blessing no matter how much I have pain,
Abused at war beyond recognition, I left my body but prayed to remain,
To be with Patti I would endure anything and God gave a near cure,
Not a cure but an existence in pain is worth every minute I assure,
To be blessed with children that for some reason love me and care,
Perhaps it's their mother's influence that placed the love for me there,
We have moved to follow my career so many times I can't track it all,
They never complained to me as I've wondered did Patti take the fall,
The trips through the mountains of Colorado meant so much to me,
Playing volleyball in the hot tub with just our little fun loving family,
They brought so much joy to my heart as I started to realize I was ill,
Soon the many doctors trips brought confusion and pill after pill,
Heart attacks, gall bladder surgery, encephalitis, stomach surgery,
The list goes on, papillotomies, and liver embolizations times three,
Never once did I despair or feel the end was near as I've done too much,
I survived cruelties of war from but a photo and memories of her touch,
At my side they were as bankruptcy came because I couldn't work,
My poor little angel had to take anything even working as a clerk,
Yet we rebuilt as a family and after college our children came home,
This time I would shower them with love and my how time has flown,
Now my son and I are approaching twenty years working together,
I have realized so much about him, his intelligence and how clever,
And beautiful Susan, bless her little Crohn's riddled body I so love,
Oh how many times I have prayed for help for her to our Lord above,
Yet her attitude is positive and through it all she gave birth twice,
My son and his wife have given me two, all of them treat me so nice,
Both have married well in that their spouses are endeared to them,
They are loved in return and none have done anything on a whim,
"Daddy," the word seemed impossible as I look back on my life,
But I should realize the impossible happens when I look at my wife,
I am loved more than I deserve by everyone that's in my surround,
I am in heaven, my life prediction should have been "heaven bound."
The end, by Pat. I love you all of you.

---
Brian Wilson, Vincent van Gogh, and Patti King
Love can't be denied when two hearts unite life becomes so wonderful,
The movie we watched of Brian Wilson and Melinda Ledbetter was beautiful,
A love story fortunate to be owned by a man of wealth and of world fame,
This man is a genius in musical creation yet disliked entertainment's game,
Imagine Vincent van Gogh being forced to board planes with paintings in tow,
Perhaps he would use drugs as a means of escape from the places he'd go,
As a masterpiece took form inside his head would he try to escape to create,
When creation is born it must be expressed or to wait it can become too late,
It seemed no one tried to understand that every sound must be heard inside,
Sounds of creation can become notes and colors or flashes that often collide,
I have played music loud as a story or rhyme unfolded from inside my head,
I see cartoons and flowers or colors so rich you can reach through all but red,
With closed eyes I see and as such I see music although hard to understand,
The music is easily understood, to see music is most rare of those in our land,
Emotions flood from my heart while memories of loneliness during war unfold,
Purple and deep blue cloud me inside yet without feeling such it goes untold,
I wonder did Brian Wilson experience such things as colors and flavors danced,
I wonder also of the poor man, as this occurred was it hindrance or enhanced,
The joy of expression can become anguished need to express without a muse,
If I didn't have Patti within my heart the attempts to express would be of no use,
Perhaps she is the funnel to direct the flow as emotions pour from my soul,
Nearly every emotion I know has been enhanced of my loving her in whole,
Did the others such as Brian withdraw as they had no funnel to guide the flow,
Thank God he found Melinda or she him and I was found by the only love I know.
The end, for Patti by Pat, I love you my sweet angel.
---
My Beautiful Morning Angel
Each morning I think of you and I think of how wonderful you are,
I look at myself in whole and I think I can do better for you by far
As sunshine passes the night to bring brightness so does your smile,
This morning I awaited your beauty for what seemed such a long while,
You walk outside to the hot tub and I awaken from my morning spell,
Once again I am filled with the happiness of the very night I deeply fell,
It's impossible to describe what your beautiful morning smile can do,
As our business pressures bring worry the worry is gone from seeing you,
To feel your touch lifts my spirits to such heights I seem to float away,
Into a world of fairy tale life and romance novels written of us in some way,
Romance no other has known that lasts a lifetime with each day better,
I of muscular frame from but your tender touch becomes light as a feather,
The day is filled with wonder as I explore you with my eyes upon each view,
I can see it in your eyes that you doubt such words but angel it's oh so true,
For fifty years each time you've entered the room your smile lights the room,
You are my beautiful morning angel that always makes my morning bloom.
The end. By Pat for Patti. You are beautiful, I love you with all of my heart.
---
Happy Birthday Patti "Birthday Angel's Unseen Wings" (64th)
A beautiful day is upon earth's horizon to celebrate an angel's birth,
Angels are seen in many forms with most angels having wings on earth,
Patti was born this day and no other woman in my eyes equals my wife,
Arguments are won and lost by merit, so much merit that I'd bet my life,
She is an angel of truest form although her wings are hidden from view,
Hidden they may be yet she has taken me to heights unknown to few,
Together we have soared beyond the boundaries of science and theory,
Entwined spirits bound as one, an eloping entity of two souls in harmony,
Imagine for a moment the beauty of two trees so near they join to be one,
Once they were two then growth brought them to share molecules in sum,
Our love is such that in our infancy just a look brought us to be forever bound,
As disjoining brought pain so many years ago through her survival was found,
To walk with her hand in hand awakens my eyes to see creation another way,
Our auras joining as one creates a place shared by few on this very special day,
The aura force of "we" is ours alone where existence of the rare unicorn is real,
As roses emerge in full from her touch, her kiss brings sensations of love I feel,
Through a velvet curtain of seasoned love we drift as her kiss fogs my mind,
A sweet sensation of tongue is teasing mine to dance in a dance of sensory find,
I am found to be lost or am I bound to become lost in a sensation of sweet need,
Without knowing her kiss no soul can understand how upon her essence I feed,
How sweet it is that I have had this addiction of "the essence of Patti" for so long,
I've inhaled deeply that I may take in her odor of sweet passion as she walks along,
My world has evolved into a dimension of unexplored pleasure and joy yet known,
As music or sound can fill the air her essence is of the same if it could be shown,
Distance quiets the night until faint is the sound yet her essence will remain whole,
I collect riches of Patti and I'm expert in "essence of Patti", and loving her is my role,
She is the gold in my heart and of her I exist, she is the angel wearing my gold band,
For she the beautiful angel I am he, I am he for any need be it to step down or stand,
I pray this day of angel creation is the today created for her to have a perfect birthday,
May the aura of her surround be filled with happiness, love, and joy on this special day,
As I tenderly kiss the lips of my sleeping beauty I softly reach around in search of wings,
Again I find none but soon the reveal will be, we will wait to see what another year brings,
I will see those wings. The end. I love you my beautiful angel.
Happy 64th birthday.
---
Love Flows
Love flows like a river with every drop of red inside my heart,
The river would burst like a dam if we were ever torn apart,
I feel you pulse through my heart and with every breath I take,
I walk towards your beauty and I admire every move you make,
My hands shake so when the excitement overwhelms my whole,
Underneath my feet the world shakes so hard it rattles my soul,
True love never has doubt about every word written in her name,
Without her as my true love the words wouldn't be written the same,
The things I have done have no worth unless she is at my side,
She is my understanding of life, with love she is my lifetime guide,
I appear gold at her side but its only the shine from her beautiful glow,
The appearance of a man is in the company he keeps, this I know,
My one true love, take my hand and walk with me I implore,
I promise we will be together in life and soul for evermore,
When church bells ring it is a celebration of love from above,
The smartest I've ever been is the day I gave you my love.
The end, by Pat for Patti
---
Rust Specs in Your Eyes Are Parts of Me
As I sit beside you and I stare at the profile I know so well,
I wonder of the many things I said back when you and I fell,
Then as I reflect on the moment of the first "I love you" I said,
I knew you'd say you loved me but fear still danced in my head,
If I fell to the cold hard concrete of your porch as I felt I would,
I thought she would think I'm so weak if I fainted where I stood,
The passionate kiss brought forth a fire and a need to speak,
As the words so manicured in my mind came out I felt so weak,
My heart beat so hard I know you had to see my shirt shake,
Oh, how I love you, my beautiful angel, with every breath I take,
I said but "I love you," yet if you could read between the lines,
If my body language spoke at all there should have been signs,
When you were so young and I placed a kiss upon your cheek,
That was the beginning of a trend when a kiss made me weak,
Not a kiss of ordinary value but a kiss from you meant more,
Remember when I first took your little hand while in my store,
So many moments of loving you are locked deep within my heart,
So many memories of loving you locked deep in a cell and apart,
So many moments of loving you beaten so bad I couldn't stand,
So many memories of loving you beat despair for a wedding band,
You pulse through my blood with each beat of my heart, it's true,
In every minute of the day a portion is always for thoughts of you,
The rust spec colors in your beautiful eyes are ties of you to me,
A young man of steel left long ago and returned with rust tragically,
But that I am rust is special to me as I feel the rust in your eyes is me,
Each time I gaze into the eyes of an angel I am engraved there to see,
Perhaps long ago a warrior knight fought to protect your honor so bold,
I recall, I do, in dreams of life's past I bled out while in your tender hold,
Blood from my wound covered your hands as you wiped tears away,
The rust of my blood has stained your eyes to forever link us this way,
I may be a king but I once was a prince that fought valiantly for you,
It seems in each lifetime I've done such because for you it's what I do,
I survived it all this time and though I've passed on in this life times four,
The Lord has allowed my return to you instead of each lifetime before,
I am but rust to your gold no doubt, time and battle has worn me thin,
Yet from a kiss of your tender lips this rusted frame becomes gold within.
The end, a poem of deep long love for you my angel. I love you.
By Pat for Patti
---
Precious Words of Perfection
The words unfound are the words I so desperately seek,
I have been aggressive in my search yet I appear meek,
Where do words rest that I am in search of in my need,
I feel I have searched with diligence and great speed,
I have said I love you with written line and in speech,
Yet I feel the words of description are beyond my reach,
It's impossible for my words to reach into heaven's door,
Or to describe sensations of elation stronger than before,
One word or ten just as long as it's the pinnacle love word,
Even more so a word of creation that has never been heard,
Immediately understood as the word no other person can use,
A word they may speak only to describe us otherwise it's abuse,
For you, my angel, a word for you to attach to the new word,
Again a word so significant that it is of only you if it is heard,
The word of majestic description includes parts of so many,
Words of beauty, kindness, passion, tenderness, love aplenty,
To compliment such word or phrase adjectives, adverbs too,
Ultimate words to describe will to be there if you need rescue,
Remember five bouncers the night a man tried to kill his wife,
With targeted blows all fell as I then removed the assailants knife,
For that rescue I was grateful to have been drafted and trained,
After so many years that I reacted correctly can't be explained,
Embedded I suppose, much as my embedded love for my beauty,
I have so much love for you I consider sacrificing my life my duty,
And today I struggle for words to describe feeling like a child,
Or how I become excited as your cheek kiss is driving me wild,
A teenager in love is how I feel everyday and I have for years,
Words to describe that separation breaks my heart to shed tears,
You and the Texas moon are a night of outdoor adventure to me,
As we cuddle your hazel eyes closing for passion is pleasure to see,
As moonlight casts a shadow upon the one I want it describes amour,
A song of truth to sing as ecstasy lifts me higher than ever before,
How is it I can't find words I desperately seek to describe my love,
Perhaps entry through heaven's door will release words from above,
As hummingbirds fly about and mockingbirds sing paradise is near,
Angels singing in harmonious song come across so fresh and clear,
When an angel appears and she is you I know I will be blessed with word,
I will reach out for your tender hand as at fourteen my words you heard,
A promise to be there forever and description incomplete if love for you,
I will forever seek words to describe loving you until it's the last thing I do.
The end, for you baby, I love you so very much
I sorry I haven't had time to give you the attention you so deserve. My heart is yours forever. We are me. We are one.
---
Pedestal of Love
A hundred years from now will you dance on a pedestal with me,
A slow waltz of lover's lore I ask of you that all the world may see,
Yes, I've said a century because I know we will love forevermore,
If I must I swear I will take a knee that I may ask of you or implore,
High upon a pedestal made of quarried marble in the highest grade,
Only musicians of fame will sit to play on instruments heaven made,
Just for you my angel will be roses abloom in every color and scent,
They'll come from miles around to see the woman who's heaven sent,
It seems I woke a century ago with you in my heart and my mind,
I offer up my life to you and all the love a seeker of love can find,
You are deep within my heart interlaced with all in me that's good,
Our love has been tested and proven as the test of time withstood,
I've known you my angel long before our eyes first met to know,
I felt your lips on mine long before our first kiss so very long ago,
Held you close in my dreams as I dreamed of love and only you,
It's a foreign thought to most but loving you I was designed to do,
At eleven I cuddled to a fireplace knowing I'd do it with you someday,
So young but wanting to love an angel and feeling love pull my way,
And that's why I knew, I was actually stunned to see you standing there,
Dreams I had as just a child was of an angel with long dark flowing hair,
Your eyes twinkled like diamonds in the night as you smiled at me,
I told you then that I'd marry you as other words seemed to flow free,
Though thirteen you were the most beautiful creature I had ever seen,
I would have taken you to kiss immediately but for my poor self esteem.
So many years have passed since the day of my angel's reveal,
The day I realized dreams of love and heaven can indeed be real,
I knew you well before I met you because my heart already knew,
And I knew the image of an angel when I first laid my eyes on you,
Was it love at first glance or was it recognition of predestined love,
No matter how it occurred I know very well it's both of the above,
If I named the most beautiful things I've seen of our earth and our star,
The list would pale next to you in my eyes for I once loved you from afar,
Dance with me my angel in the moonlight of Texas that I may hold you,
I'll pull you close as each time we have danced but this time in full view,
Your tender lips will know my kiss fore we exit the pedestal of our love,
I'll leave no love on the dance floor as I shout it loud to heaven above.
The end, by Pat for Patti. I love you baby

---
---
Volume Twelve
---
My Morning Star
You are the light that shines from the morning star,
Only you I have longed for while stationed afar,
As daylight breaks it's another chance to say I love you,
Not only for loving me but all the things you do.
I wake each morning with hopes you're still in our bed,
You are the depth of love from which the love fire is fed,
As your morning heat ignites beside me I know it's love,
The fire burns so intensely I wonder do I wear a glove,
I love to look into your beautiful sparkling eyes upon first light,
You are the reason God gifted men with perfect color and sight,
To see such as you gives my heart pause as I take you in,
So much pleasure is felt just by touching your soft skin,
Then I ignite within and I feel I too am afire inside,
I love and desire to show such love can't be denied,
You are the morning star of my life, please shine on me,
Without your love and my reason to love, I wouldn't be.
The end, by Pat for Patti. I love you little angel

---
Poem About "A Book Written of Love"
Turn, turn, turn, turn the page once more to begin,
As is life in a book, there must be a loss to have a win,
Each hour has a start but to start another hour must end,
Once a week is lost in part it is impossible a week to mend,
With each new page I pray for another day to be with you,
As the page turns my angel of morning delight comes in view,
I've written pages of love on paper, paper hearts without a beat,
Until blood pulses through the heart words will remain incomplete,
A moonlight kiss written well can engorge parts with the mind,
But until lips touch upon the sought he remains to be blind,
No sensation of imagination can lift the human soul that it may fly,
It's so strange yet words written correctly can make a man cry,
Let her kiss light upon your lips and your heart will set sail,
To a dimension unknown, for if imagined it compares pale,
A book written of love's first year must be an enormous one,
True love written should be ten times the volume when done,
The moment your mind drifts to her and emptiness is found,
It's the signature of love when her absence is felt all around,
You must take each moment to heart and cherish it in full,
If blessed to love true let the world know of her love's pull,
Great men face fear yet cannot bear her departure in thought,
Such men wear ribbons of valor for wars and battles fought,
Time, a little more time, will weigh upon lovers aging too soon,
Mornings bring delight, as first sight of her makes me swoon,
One year of love must contain pages numbering three sixty five,
Each day must be filled with love if new love is to be kept alive,
Filled with extremes of unbridled love it exponentially grows,
Written as pages of your love it will multiply as true love flows,
I've written a book of love for you my angel and it's a big book,
The birth of our love was large but the year of departure overtook,
My heart so exposed for you, the world, and the things I survived,
Our love is created of heart and soul, true love cannot be contrived,
An apparition created of love came to me when despair overtook,
One day of loving you so, while at death's door created a big book,
Twenty seven pages it took to describe an angel's kiss on my lip,
Swollen and torn as blood seeped from my skin from head to toe tip,
One book to use as a tall stool with book one used as a step stool,
A stool of three feet disguised as a book of love is a clever tool,
Each year has grown my sweet love to such extreme my books not done,
I've come to realize our mansion upon the hill is our home of just one,
We have become one and shall remain as one until our time is done,
Written of me in truth of you is that you've always been number one,
Should a teardrop fall upon my written word I pray it is of your eye,
As I share your emotion while you read my rhymes I too will cry,
From within my book of love voices will cry out "hold me a little longer,"
Words of departure and anguish we've known well but made us stronger,
"Hold my hand," you heard me say too often when I was in pain so afraid,
As pain took its toll to such extreme I died and listened as you prayed,
No book can contain the emotion of such a moment when touched of you,
To be granted such a gift, that while in limbo I felt your love as I went through,
Each day I hope and pray to remember sensations of being loved by you,
I write rhymes in hope you will feel my love, that you will feel me too,
Seasons pass through the year and although names remain that's all,
Leaves on trees are letters on the page and the story is the order they fall,
Each thought and each moment of the day is told as a memory past,
How the story is told creates the shadow of the tree and how it's cast,
My heart tells me our love story will hold readers spellbound for more,
I pray they understand I knew you before I met you, it was long before,
I dreamed of angels from storybooks of love and I read of lovers of old,
As our story is read I hope to hear, "that's the best love story ever told."
The end, I love you my beautiful angel.
---
Moonlight Dreams 2015 (Sunshine Kisses Moonlight Goodbye 1970)
Once upon a morning's first light I woke from the magic of dream,
The wonder of dreams makes love more possible than it may seem,
They enlighten the heart with possibilities of being loved and more,
For me it is in dreams I discovered I could be loved by she I adore,
From on high I soared into the wake of your love as you flew before,
As in my youth you seemed so unreachable that from afar, I would adore,
And in flight's wake you flew as you too gave chase in hopes of love,
Updrafts from the unknown lifted me high that I might see from above,
In the mist of moonlight beams the wake of flight was seen in vapors trail,
Large circles of flight with trails behind seemed to imply you chased as well,
To the east I saw a faint ember of red as earth's rotation brings light to day,
Or was it the flame of love and hope burning bright to show me the way,
Suddenly my every thought and effort was of you and for you as I flew,
Impressions left upon me like chiseled granite were memories of you,
And deep within me a small crack in love's granite became visible and clear,
The fear that I could one day lose you became a tremendous powerful fear,
In games of the mind and dreams magical land I slowed in flight for you,
That you could catch me was the easiest path to catching you as I flew,
Suddenly I was upon solid ground with the wings of an angel wrapped around,
I breathed in deeply the fresh morning air filtered by your hair in love's surround,
An enlightenment came upon me as memories of first loving you were in flow,
You've chased as I have chased and in circles of chase we flew with each in tow,
Particles of sunlight seemed to penetrate the mist as moonlight still shined,
A morning moon embraced by first light is a rare romantic lover's find,
To see the sun kiss the moon good morning is rare for those of late rise,
More rare upon this earth is that a morning angel brings me "morning surprise",
Seldom do I rise with daylight's first embrace of earth for an early start,
But it is I that is greeted by a morning angel whom I love with all my heart,
A poem I remember from long ago is written for you down below,
From a rhyme written for you comes words of love that I still know,
Though written before my reveal of verses I had written just for you,
I present them to you in this poem with my love flowing through,
"As moonlight slowly left dim behind for the day to begin,
My thoughts were of you and the morning mood I am in,
The beauty of youth overtook you and your radiant smile,
Have I been the benefactor of your sweet love all the while,
Is it true the words you said after our first loving kiss,
Your smile broke to say "I've waited for years for this",
And tonight you said you love me so I sat in my car near you,
The aura of love I feared departing so I stayed within view,
Now sunshine kisses moonlight goodbye, I too must go,
I will return to you tonight and allow my love to show,
To say I love you and to hear the words said to me too,
Is all I have ever dreamed of, I'm so in love with you."
(Last three verses August 1970)
---
Beautiful, Beautiful Angel
Beautiful, beautiful angel, your eyes are heavenly fine,
So long ago I prayed you would one day be mine.
The words fall from my lips as I want to hold you tight,
How can an angel from heaven be such a sexual delight,
Two hours today were spent wrapped within your hours,
Do other people our age have the same sexual fire as ours,
Or is it you that ignites the flames of passion to burn higher,
A short gaze into your beautiful eyes ignites my every desire
I swear it's true with no doubt inside my head or heart,
Only you have the voluptuous form to wake desire to start,
A touch or trace of touch upon my fingertips is sheer delight,
Tinges of tingling electrical nerve pulses lift me to near flight,
Seasoned best describes your age for age is not a part of you,
How impossible it is to describe hazel eyes with rust and blue,
You've defied times advance to become more beautiful it's true,
Tonight, once again I'm blessed to say to you, " I love you".
---
Rust of Heart's Transition
When I hold you in my arms a change of value takes place inside,
Rust of heart transitions to become gold as I reveal truth undenied,
A space void of character or direction is filled with love and discovery,
To find meaning without a question asked began a needed recovery,
I found love where love had been, it was always of and for you, my love,
A seed of doubt can destroy acres of developed love, this I'm sure of,
Fear interlaced with doubt becomes an ever growing hardship to endure,
Discharged of hardship's eclipse I found your love was realized of you as pure,
With abandon of doubt I flew into the valley of paradise and came to you,
My heart intentioned to marry you upon arrival but spoken word flew,
The words within my heart were blocked by that seed of doubt I wrote of,
Then your eyes shown like the diamonds twinkling in the heavens above,
I saw joy filled with a happiness unknown to me in your eyes once more,
You were the answer I sought as I again pulled you close as I had before,
I remember, I do, every moment spent in the beginning of being with you,
Goodnight was a slight heartbreak compared to what I had gone through,
Your front porch is forever engrained in my memories of kisses goodnight,
The long drive home was a quick drive because my heart did so in flight,
To the ends of the earth I will follow you with my love waiting to be given,
I love you completely, resulting of you, all harm done to me has been forgiven.
The end, for Patti. I love you my beautiful angel.
---
Beautiful Tunes of Loving You (Oscine Bird)
If I could sing like an oscine I'd sing beautiful tunes of loving you,
For you it would become as common as the Texas morning dew,
My songs, although trivial to the world, would be of loving only you,
I would sing of your beauty and wonderful things you always do,
For so many years you've stood by and endured at my side,
You were there in tears each time I returned after having died,
There is no better return from the afterlife than you at my side,
I have done so many things in my life but you're my only pride,
If I could write rhymes of fame for you and the world to read,
The first words I would ask all to read would be of one deed,
A poem saying you chose me to love is now my favorite read,
Let words from "Love on the Dance Floor" be quoted, I plead,
Too many doubt my words that embarrass you too many times,
I write of beautiful eyes and say I love you in most of my rhymes,
Because of you my love life has known nothing but best of times,
Believed impossible, my love still soars as an eagle in flight climbs,
I would never ask you to say words you'd prefer to never speak,
But to hear "I want you" with passion aflame truly makes me weak,
If words of love or passion's peak are heard of me it is of you I speak,
I have wondered through the years how your beauty has yet to peak,
You are the angel of morning light, the one men dream of at night,
Birds that float high above the timbers must search for you in flight,
Beauty is a common bond seen in creatures of daylight and the night,
The face sculptor's seek is of you, I truly believe this line to be right,
To show hearts filled with love many painters showed it with a flame,
Oils of long ago captured beauty most often from those with fame,
If I was a famous knight I would have fame more known as the flame,
An image shown as a depiction of our love, is an eruption by name,
Your heart is of gold and your eyes sparkle like diamonds in the night,
Is it possible to be embedded of sparkling diamonds shining bright?
There is magic in all you are and do, especially shown of you at night,
When we rest in each other's arms at evening's start everything is right,
I believe a common bond of love is found in creatures large and small,
You have the ability to consider love in spooky creatures short and tall,
Amazingly you carry the weight of a golden heart although you're small,
You are a fair maiden taken from rhymes of centuries ago to heed my call,
I pray you never rue the day of our vows joining as husband and wife,
As an oldster of seventeen and you a mature thirteen you became my life,
No man past, present or of future life could have such a wonderful wife,
Together you and I endured so much including war and parent's strife,
For you I will recite rhymes throughout the night until morning dew,
But if I try to sing like an oscine bird I fear my vocals may alienate you,
My website is insignificant to the world but it is something I must do,
Every line I've written here for you is to say, "I'm so in love with you".
The end. By Pat for Patti
I love you my sweet angel,I feel better of thinking of you all morning.
---
Patti's Love (45th Anniversary Poem)
So long ago in a land so far away when I'd rest within the glade,
I'd hold an angel I love so close to my chest as I'd slowly fade,
So near my heart was this angel yet she didn't know back then,
Years have passed and she has become the angel from back when,
Still I need this angel so, she is the one of my eternal forever,
Forty five years ago this day we vowed till the twelfth of never,
Love flows from my angel's eyes when we lock into a loving gaze,
Today my love lingers strong, much stronger than long ago days,
Restless days of inflicted pain has traversed my worn frame,
Such as it is this pain is rinsed to minuscule size by my flame,
Tonight your touch will sooth my soul and let my tired frame rest,
Your love has taken me to highs that would survive heaven's test,
We as one pray, but alone I pray my children will know love such,
And to feel the satisfaction of gifted love from their lover's touch,
Let them one day feel the joy my life has known for so very long,
At my departure I pray they celebrate "Patti's Love" in joyous song,
Each day for so very long you have loved me more than I deserve,
Such balance of beauty has mesmerized my mind and optical nerve,
Within your heart your beauty flows to be seen as outer beauty too,
Fifty years ago I fell for you, and each day I'm more in love with you.
The end. For the Angel of my heart. For Patti
Happy Anniversary Patti, I love you so much.
---
What Poets Forgot
So many famous lines have come from poet's thought,
I have often wondered of the lines that the poets forgot,
There must have been the moments when the wife called,
Or when he woke from a deep sleep, were lines recalled,
If written by me "Oh Patti, Patti, where are you Patti" I cried,
It doesn't sound the same if said "thou" it can't be denied,
Juliet had her Romeo and she cried for him into the night,
Words of perfection came from Shakespeare's story of plight,
Many interpretations have been made in how the story is told,
But everyone must agree it must be considered artistic gold,
"Love on the Dance Floor" has been said to be my very best,
But it really doesn't matter when it comes my time to rest,
How you feel of me is more important than any written rhyme,
Others say "A Sailboat of Paper Mâché" is my best dream line,
In that dream state I search for you from child to adult male,
How close we all stand next to death is hidden within that tale,
I fear as I age I won't find the words to describe my open heart,
The only reason I cherish this skill is to describe my love in art,
I'm no sculptor nor writer of song, to say I'm an artist is a stretch,
If only I could paint your portrait or even a carbon to paper sketch,
Second thoughts come to mind so often they should differ by name,
In bundles they come instead of one second thought non the same,
It's numerical in value not a measurement of time in this poet's rhyme,
Within my thoughts are images of you draped in mood colors each time,
No matter the background or color your image is of an angel in glow,
To describe an angel is impossible in task it's the hardest thing I know,
For fifty years I've searched for the words of perfection my angel in pink,
My mind sees moods as colors and colors envelop the emotions I think,
How many lines have I forgotten that were perfection and color draped,
Was love's perfect description once in my mind and has it escaped,
Magenta is how I see passions escape from one heart to the next,
In a moment of passionate ecstasy did it escape to Infiniti complexed,
Pause, take pause I beg, consider that within each thought you lie,
Very deep thought brought through my memories from my eye,
Of you and for you the process of life has existed within this form,
I, the man so in love with you, have admitted my love is beyond norm,
Each line of most every poem written for nearly fifty years is of you,
The search for perfection of word, words to describe my heart through,
I take breath as a child at times in awe of his first beautiful recognition,
I cry as a child when thoughts of the end will bring physical separation,
Love will always bring heartache unless parting was accidental,
Reality brings thoughts of truth that for one of us it will be horrible,
But until my heart can no longer beat I will seek perfection in word,
Perfect words or lines to say "I love you", words you've already heard.
The end, by Pat for Patti.
---
Beautiful Sounds of Morning Delight (Oscine Sing)
Oscine sing loud that we may celebrate this morning with you,
Passerine is your larger clan meaning you are a perching bird too,
It makes no difference to me sweet bird as we join in celebration,
A beautiful mix of earthly treasures adding to my morning elation,
Our singing birds sing loud as the morning crests a Texas mound,
An angel of morning light gently comes to me as earth spins around,
Ever so gently she awakens me aglow with the joy of another new day,
Somehow she sees beauty in everything as the day comes in play,
Soft whispers of love slowly caress my ear as her warm breath is felt,
I pray there is a way to share sensations so warm hard hearts melt,
A person must be enlightened by His Holy Word at times to be aware,
If man will open his eyes and his heart the answer is normally there,
So aware I am of the precious gift given me that cannot be felt by touch,
The morning star delivers the Angel of morning light that I love so much,
From her soft whisper of love the morning grows as dark becomes bright,
The shadow from the horizon races across earth's surface as if in flight,
You don't realize the speed unless it's seen from high above our bedroom,
Until now had I seen the shadow of night depart for the day to bloom,
It's the speed of a day as it races across our planet bringing change,
Everything upon this earth relates to you although it may sound strange,
I am but a micro second of the smallest denominator of the tiniest being,
Somehow our Creator has found me to be favorable in what I can bring,
An honor given me, I am to protect His finest Creation sculpted by His hand,
My vow to honor her is sincere and for her my life would be given if by stand,
So little bird with colors galore sing loud and introduce the rising sun,
Announce to the world with love song that the past night is now done,
So many birds of various feather have gathered round to sing for all,
Perhaps an orchestra of bird's delight will answers morning's curtain call,
As the beautiful sounds of bird's delight fills the landscape with nature's song,
My angel of morning light gently cuddles to my frame saying "here, I belong",
She fills the room with an ambiance of only her as she exudes angel's grace,
I stare into the eyes of a beautiful soul and I see reflected gold upon my face,
I hear you sweet Texas bird as I linger within her eyes for ecstasy's tour,
Her love for me can be seen within her eyes that have an angel's allure,
I'm blessed with love and nature's song they sing for us in special ways,
From bird's golden throats blessing of God are heard with mornings rays,
Soft whispers of love waft through my ear setting neurotransmitters afire,
Her touch though known feels so new to my anatomy releasing my desire,
For her I lust as though a teen with first eyes upon a ladies beautiful breast,
So beautiful she is this day, years have perfected her lines yet she is to crest,
I am man and as such I am I must have this voluptuous form at my side,
To kiss her form with lips though aged releases a need for her deep inside,
The softness of her throats response is a song unknown yet I love to hear,
With birds in song and my "Patti desire" a perfect morning is coming near.
The end, for Patti. I love you beautiful angel. 11/21/15
---
Within My Mind the Wonders of You
You move through the morning air affecting all you touch,
Affection comes from this that makes me love you so much,
I hear you flutter about as if a winged fairy sprinkling dust in the air,
When you finally set down I see a transition to my lady fair,
Somehow, someway I see you beside a huge oak and babbling brook,
Your silk gown drapes your breast capturing my eyes for a lingering look,
The magic of morning is a wondrous delight when I hear you about,
The calm of the air amplifies a crickets chirp into a disturbing shout,
Within my mind the wonders of you lives forever as you truly are,
I've held you in my arms each morning although I was stationed afar,
While camping in the Colorado mountains my heart journeyed to my mind,
In the magic of memories she was there, the angel I hoped to find,
The tenderness of your soft kiss lingered on my cheek as sleep came to me,
As the morning sun returned warmth to the mountain side there you'd be,,
Your beauty is endless and I am blessed to be your greatest admirer,
When the fishermen gathered round I was cuddled with you near the fire,
Perhaps one day you will understand I am a most dedicated man of affection,
It's your affection I am bound to with every ounce of my being's dedication,
Chains don't bind my heart to you as love has a much stronger hold,
Here I live this boy of meager birth living the greatest love story told,
Morning angel of morning light bring the gift of your touch near I ask,
From but a touch of lingering delight I find myself ready for love's task,
To hold you in my arms as you settle to rest from your morning round,
I will place kisses upon your form as we lay on the grass in love's surround.
The end, by Pat I love you baby.
---
Dual Timelines of My Existence (The Final Straw)
Dear Poems for Patti readers,
Today I was diagnosed with Macular Degeneration. I knew something was wrong because my vision became poor very rapidly. I had an exam last year and within that year my vision changed drastically. I will continue to write. I will continue to work. I will face this as best I can with determination and faith, I will do so with Patti's love in my heart. I would not change anything in my life because each illness and kiss has brought me to this point. For over a year I carried Patti's image in my mind and heart as I served our country during Vietnam. I absolutely adore Patti and I love to look at her. That will fade with time as there is no cure. Thus, I will carry her image forever dear in my heart. With all my heart I thank our Lord Jesus Christ for blessing my life to be a part of her life. For over a fifty one years I have loved her and each day I am as giddy as a teenager when I see her. Excitement fills my heart each morning as I put my eyes upon her. I feel the same each day as I did when I was seventeen. Soon I will become excited by her essence and her touch, the image of vision may not be there however her image as a vision will be there, for that I am again grateful to our Lord Jesus Christ.
This poem is about my journey.
Thank you and may God Bless you,
The Dual Timelines of My Existence (Final Straw)
The might of the Texas rain is felt with every raindrop pelt,
An appropriate theme fitting me as pain and heartache is felt,
Simplicity defines my life that is best shown in a dual life timeline,
I have two lines of opposite appeared existence that are mine,
A shattered mess of pain is my health line that struggles to exist,
My timeline of love is strengthened by the only one I can't resist,
A timeline so strong that the health line clings to it for support,
Sometimes waning health challenges love in an attempted abort,
A coup of such shall never take place as long as she is in my heart,
I've skirted the edges of the "Kingdom" as my health fell apart,
But for her my existence would be too unbearable for one man,
With her near to touch or if she is in my mind I do for her all I can,
My draft survival was because of my love and my heart's need,
Praying to God for her and for me, my faith became my steed,
My shattered frame survived their brutality with but a breath left,
She held my wounded psyche not caring I was no longer deft,
A brief period existed when both timelines hung in precariousness,
No word from home be it from her or family left me a broken mess,
Yet somehow a flicker burned with faith to fan the flickering flame,
This faith proved true for within a year my angel took my last name,
The timeline of love grew stronger as it healed the year of lonely thread,
The embodiment of what I once was was now a memory inside my head,
I had no party or welcome home until I saw her and her smile said it all,
Pride of personal appearance returned to me as I again tried to stand tall,
My timeline of love for a year plus was more ash of burned fuse,
With combat and other missions to endure I was easy to confuse,
I refer to my state of heart yet when detained she got me through,
Clinging to love while at war and no word is a difficult thing to do,
A timeline of ash yet ash has some strength if undisturbed alone,
My health line had been strong until becoming ash before I came home,
A month in a rum bottle while surrounded by my father's understanding,
Allowed my psyche to feel I could go on and I returned home standing,
Then I saw the smile of an angel that once again made my life worthwhile,
The timeline of my existence so microscopic is scope grew from a smile,
Within the year we were married and my timeline of love prospered,
I knew deep within that my health would forever need to be doctored,
On a trip to my parents at age twenty five I died on the bathroom floor,
The pain had become so intense that I parted in search of heaven's door,
The bright light was there and relatives gone welcomed me to come in,
When I saw her sobbing with my limp body in her hold my heart broke again,
They say you don't feel heartbreak and pain in the Garden of Paradise,
I felt the pain of her heart and somehow I felt tears rolling from her eyes,
Her precious eyes, so beautiful and laden with care for all she may see,
She is precious, a gift given us by God, or perhaps I'm chosen as it may be,
As the years quickly flew by I have been diagnosed with too much to count,
Yet the pain may make me pass out I pray to remain to endure, to be pain stout,
I am strong, in wartime I endured sodomy after each joint was brutally forced apart,
Dislocation is painful but daily kidney stones laced with liver stones stop my heart,
Please understand this is but a small sampling of the diseases I endure,
Two back breaks as well as atrophied thighs from infection they didn't cure,
To walk is pain but to walk to her and beside her is a heavenly gift for me,
I am the man walking at her side, I am the man beside the Angel they see,
Diabetes insipidus leaves me in thirst while meds for nausea dry my mouth,
Kidney disease along with AVMs that bleed into my ureters push clots south,
Outward swelling of my abdomen has created pain so intense I pass out,
As well the AVMs are in my liver and have atrophied parts near and about,
The stroke we choose to ignore was no doubt an AVM but there is no cure,
Life is fragile yet with the desire to survive it is possible but you must be sure,
The timeline of my love is like a woven vine entwined in her and wrapped within,
The pain I endure is a droplet if payment for the one I adore let the pain begin,
A timeline parallels love and I would guess it is swollen and laden with pain,
Perhaps it is scarred and rugged in appearance but needs love to remain,
I've heart disease beyond the broken heart I endured from war and no letter,
St. Louis Encephalitis brought brain damage but by her I endured to get better,
I've endured the timeline of painful health in acceptance that a price be paid,
At seventeen I fell in love with a thirteen year old and knew my path was laid,
To be at her side is paradise and I take great delight in watching her smile,
I wake each morning to look at the beautiful angel that makes it worthwhile,
Endorphins make pain tolerable there is no doubt and from a look I am high,
It is so hard to express that she is my dreams, she is the angel in my eye,
As pain became too much her beauty brought comfort indescribable,
After each of my fifty surgeries her smile made it all more bearable,
I've told so many and perhaps I've told too many that to see her is Divine,
I take so much pleasure and delight to point her out and say I'm her "mine"
To see her is my greatest pleasure, yes, beyond sex I admit to all today,
And this afternoon, I was told macular degeneration will take that away.
The end, by Pat