Dedication
This site is for the beautiful angel forever at my side,
She is my angel and she is my beautiful bride,
I am forever grateful that she sought me out,
Only she could teach me what love is about. I love you Patti.
A Microsecond of Love
My existence is but a microsecond of love.
I realize how desperately I need you as each moment in my day flies,
Your voice in the background is magic for my soul as time again mystifies.
Is it possible for an hour away from you to stretch the membrane of time?
Each hour seems two or more, yet so much less in my normal timeline.
The timeline of my existence is so microscopic when viewed as a part,
I am but a microsecond of eternity yet it is so very long when we are apart.
With you near each portion in time is filled with love, making it complete,
A moment complete is absent nothing except the existence of defeat.
Vacant time is perhaps the most precious thing those in love could know,
Sensations of time can be accelerated by the heart, yet it will never slow.
As sleep escapes me once again I rejoice that I can spend it loving you,
Though, it seems so slow at the moment, by morning the time again flew.
---
The following poem was the first poem written to and for Patti.
Although Pat had written a few poems prior, this is the first poem expressing emotion and love.
The Greatest Cargo I Will Carry (written September 1965)

The greatest cargo I will ever carry is within my heart to give away,
It is there for you my angel if only you would wake and look my way,
Once empty and cold the feelings of love were in dreams far away,
From the darkness came the light from such an unexpected display,
Will you ever know the influence you've had on my heart and my mind,
How can it be that in another's room I would walk into my lifetime find,
You own the most precious cargo that I discovered but a month ago,
In a series of dreams you were seen as someone I would never know,
Oh please don't ever leave me until you have had time to learn more,
The only love I have known is but a month in creation from before,
In a dimension of love's fortune I saw the girl of whom I have dreamed,
When you came by to say hello to me did I stare for as long as it seemed,
Tonight in my bed I will hold your image tightly and whisper in your ear,
In a series of dreams I will find you in a rose garden and hold you dear,
No man knows the boundaries of his will unless tested with true love,
It's a testimonial to free will given by God as he created all from above,
I give of my love willingly please be kind as it will only be given to you,
Please don't ever break my heart as I don't know what I can live through,
A month ago I still felt to be a boy until I walked into a star in the sky,
And now that I know love I will never ask of its making or ask why,
Today I am a man so deeply in love to remain such until the end of time,
I've told you I'm in love with you many times but I'll say it again in rhyme,
As you walk away through the door I feel I may cry just to see you go,
Look into my eyes and listen, I am the greatest love you will ever know.
The end. 1965 first poem written to Patti.
---
To view the full collection, please use the navigation bar at the top of the screen
or click here to be taken to the main Catalogue of Poetry. 
Newest content can also be found in the Newly Added Poetry section.
---
I Am Grateful
Sometimes in my life I've overlooked how important you are to me,
I've loved you for so long that I overlook things although I do see,
I see the things you do yet I fail to tell you that I see what you do,
You've done for me for so long and yet I have failed to say thank you,
When I am ill you are at my side not only in love but as my protector,
I am grateful through and through and each day for it I love you more,
My heart is yours and it will belong to you until the stars no longer shine,
I am eternally grateful for your love and that you have always been mine,
Through time's journey we have held hands and strength comes from this,
Even more I gain inspiration from looking into your eyes followed by a kiss,
And from your heart's example I've gained more as I've endured through life,
Without you I couldn't go on, I have survived because…..you are my wife,
I love you.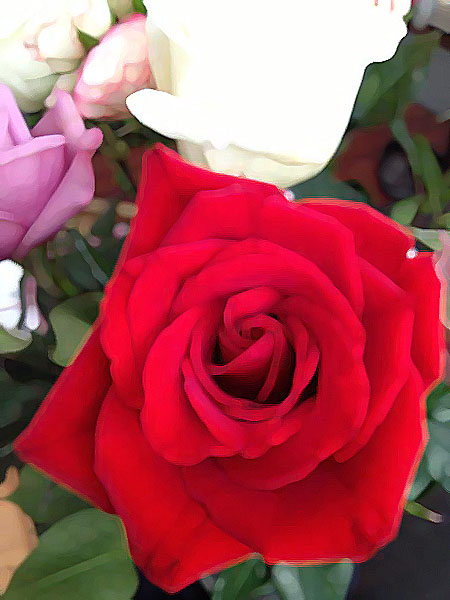 Conceived by Patrick King. Artistic Design & Creation by Susan (King) Kishk.