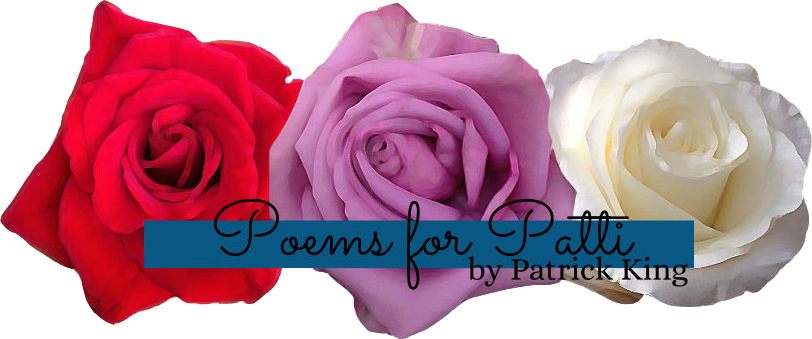 Last Goodbye
CONTENTS
My Throne: a Song of Heroes & Joy (When I Go to Heaven)
As the Sunset Comes (A Sailboat of Paper Mâché)
Beautiful Teardrop of My Love's Saddest Day
Will These Words Bring Comfort
---
My Throne: a Song of Heroes & Joy (When I go to Heaven) (lyrics by Patrick King)
(I wrote this poem as a song.  It was recorded by Dana Collins many years ago.  It is no longer available for sale)
My day will come and I'll have my throne,
In a little place that I'll call home,
Arms wide open and banners on high,
Jets will fly over in a clear blue sky,
A parade is scheduled just for me,
I'll be riding so high for all to see,
They'll slap my back and shake my hand,
Have live music and a bandstand,
That's what they'll do when I come home,
I'll invite my brothers up on my throne,
That's what we'll do when I go home,
My pain will leave and I'll be well,
I'll be in heaven, already been to hell,
My back will be new and I'll stand tall,
Pick up my bat and I'll play ball,
My friends around with guitar in hand,
We'll play music and have a band,
The scars are gone we put 'em in song,
And we will party all night long,
That's what they'll do when I come home,
Please join me up on my throne,
That's what we'll do when I go home,
We'll walk again hand in hand,
Brothers of war in a peaceful band,
Confetti will fall on my purple heart,
Our bodies whole, no longer apart,
My sweet little love will be at my side,
No more secrets, no love to hide,
This time they'll greet me when I come home,
I won't have to walk home all alone,
No yells of murderer when I come home,
Just a hero and glory, no need to atone,
Music and joy, banners and signs,
Beer a flowing, whiskey and wine,
That's what they'll do when I come home,
Won't you please join me on my throne,
My pain is gone and I don't feel bad,
Please don't cry for me, don't be sad,
That's what we'll do when I go home.

---
Should I Wait
Should I wait for you or should I go through?
When my time comes I need to know what to do,
Should I stay and try to find a way to comfort your heart?
Or should I crossover and pray you don't fall apart?
In tough times you've always been strong,
You know I'm right, this time I'm not wrong,
When you feel a soft wind blow through,
Know that's me trying to comfort you,
I won't be gone; I'll be one of those spirits lingering on,
When your time is finally finished and every second gone,
The first face you see is going to be a younger me,
Your gonna be strong, healthy and free,
So little lady when I depart this land,
I'll still be there holding your tiny hand,
Smile a smile just for me and blow a kiss my way,
Even in death I won't leave you, I'm here to stay.
---
Help Me in My Misery
Help me in my misery; I've been so far my friend,
I have yet a long way to go; I'll get there in the end,
Why has it been so long since I have had a good day,
For over twenty years I wake up feeling this way,
Let the blood flow out my veins I'm ready for a change,
It is not a harsh request it isn't really strange,
New blood may mean new life; is it possible?
It's something that couldn't hurt although improbable,
Lay me down upon a stone that the lump I may feel,
It will bring a new pain there something new and real,
Torture brings desperate thoughts I need to explain,
Day after every day is much more of the same,
Forgive me please forgive me, I'm on my bended knee,
Teardrops fill my eyes, so much that I can't see,
A sob has entered my voice I really have no choice,
If He would just remove my pain I could rejoice,
I haven't lost my way; I needed a way to vent,
I haven't forsaken Him, no need to repent,
Sometimes a man has to cry to restart his way,
Please pass no judgement on me I've thrown the blues away.
---
As the Sunset Comes (A Sailboat of Paper Mâché)
As the sunset comes I lay my weary head to rest that I may drift away,
In a sailboat made of paper mâché and a sail of childish dreams I made way,
The dancing elephants I could see ashore as they waved their trunks hello,
Upon water made of glass I made way with no wake or ripple left in tow,
The water seemed true of glass as my vessel slid quietly beneath clouds above,
As my heart seemed to cease I grew heavy, then realized I was absent my true love
No longer did I feel a child with dreams, then the weight of the world fell down,
A storm so fierce it tossed me to and fro for hours, until my vessel struck ground,
Battle sounds came from this land as crying men were heard so clear,
Cries of men in anguish of heart, for those departed were friends held dear,
Friends I knew so long ago that walked the draft line with me, toe-to-heel,
It was a land of war and fear that brought memories of pains that I still feel,
I pushed away as quick as I could to rid my heart and mind of so much woe,
The memories I'd hoped to forget came flooding back of a time long ago,
My paper boat is damaged now and water is seeping through the shell,
Oh where has my angel gone? I must find her before this turns into my hell,
I so was young when I set sail so long ago but I quickly feel so very old,
How can I go home so worn of soul with a heart worn of war turned cold?
Not a dime do I hold nor do I have reason to push this vessel home for more,
Moments of laughter are but memories that are behind a faraway door,
A moment in time when the heart does cease may release our soul,
When released of our earthly bonds we often review our life in whole,
Yet other times an awaking occurs to pull the strings of a hardened heart,
Each time I journey afar to dimensions unknown I need her from the start,
Her hazel eyes traced with blue and rust must be seen once more I pray,
With vigor I hadn't known in years I found a way to sail for another day,
Exhaustion played games with my mind as I saw her standing everywhere,
Tears of loneliness came rushing down, as I reached to touch her flowing hair,
Sleep came fitfully as I resisted rest because I feared I might lose my way,
But sleep came as sleep will come after not sleeping for more than a day,
My sense of touch said she was near as I wakened to an angel at my side,
She laughs at my tears as I hold her tight, for she has no idea I almost died.

---
Clarity of Mind
I fear the clarity of my mind is fading with time,
Also, I have apprehension that someday I won't know your mine,
Watching my mother lose who she was to herself and me,
If I ever become beyond who I am don't forget me, I plea,
Now your mother's mind is fading away and it's breaking my heart,
I fear someday very soon I won't realize the fading starts,
Am I fading now and the blindness has blocked my view,
I can't bear the thought that someday I wouldn't know you,
If it should happen I would much prefer to be set free,
My heart would still be yours, it's just my broken mind wouldn't be,
I don't want to be that pet on a leash tying you down,
Rather that, place me with care into a home near if found,
When seen on visit day place a kiss upon my lips and touch my face,
I just know the same excitement that fuels me now will take place,
It might just be a slight smile on my face but you'll still own my heart,
When we both cease to exist we will no longer be apart,
Why in life is the burden so heavy when we should be blessed?
Being rejoined together in heaven will mean we passed the test,
The man you married is no longer there and it tears me apart,
It isn't right that you're not with the man you gave your heart,
Even now on this day I burden you with worry and care,
You seldom complain about the load and your time you're forced to share,
I have this phobia of being away from you and greeting sudden death,
It's sad but I have to say "I love you" with my final breath,
The biggest thing I have to say is that I'm sorry it's now this way,
I never dreamed it would be like this on our wedding day,
We are two seniors hand-in-hand but yours is supporting mine,
You are such a sweet little angel becoming more so with time,
I want to ensure that you know my heart is eternally yours,
When written in verse the words are there to always assure,
Read them someday when I'm not around but know I'm really there,
I love you eternally, thank you for loving me and the life we share.
---
Late in Your Life
Late in your life when your world is about to fall,
Look to the heavens and remember just to call,
Don't be afraid, I will always love you and be near,
If you listen carefully you may hear I love you in your ear,
It's only that you are lonely and know I'll be lonely too,
Though I seem far away I will find a way to comfort you,
A slight breeze with a soft and pleasant scent,
Just recognize that it could be heaven sent,
It's ok to be lonely and cry out in your pain,
When the world starts to fall please call my name,
I know the response can't and won't be the same,
It's ok to feel this way there is no need to explain,
The world needs you to keep bad in balance,
Oh, how I would love to hold you for one more dance,
You are so much love to all you know and hold,
Give it to all you know don't leave them cold,
There is nothing wrong with you if it's still hurting you,
Look to all those you love to keep from feeling blue,
There's beautiful young children that love you very much,
They need you to play with them, tell stories and such,
But when that time comes and you feel only I will do,
Know that I'm always here and watching over you,
My promise to love you forever is so easy to keep,
My love is as strong as the oceans are so very deep.
---
The Grey of Autumn
The grey of the autumn sky brings a tear to my heart,
A change is coming and I can't stop it, alas it'll start,
It's been coming for such a long time and I can't push it away,
Yesterday I became much older and it seemed to happen in a day,
I'm not ready yet to see my brother, mother and father,
Instead of passing on there are other things I'd rather,
I look at her wonderful beauty and I wonder quite loud,
She has no idea of how happy she's made me and proud,
I was born to be with this one little lady of beauty through,
Beauty through meaning she's beautification inside too,
That's my reason of birth and it's been truly baffling to me,
I've been paying a price to be here but this is the best place to be,
Stand here beside me and see her as I do please,
She is a wonder of the world as much as seven seas,
Why I was blessed to love her is a mystery to remain that way,
But most mysterious is what would make her love me anyway,
My knees are worn from prayer to keep her near,
The change of a grey sky is something a man should fear,
Spring and youth has passed me by that's why I fear the grey sky,
The change after autumn could be bidding goodbye,
But long fall and winter seasons happen now and then,
I hope to wake one morning and ask fall where winter has been,
A long time coming as the song sings a tear into my eye,
A change is gonna come and all the old folks know why,
But let the season pass me by cause I have a reason for not leaving,
She still carries youth in her veins and she has me believing,
I'm as much a part of her as she is of me and her youth keeps me here,
When I hold her in my arms I don't feel old man winter creeping near,
So lift me off my knees and push me through the door,
I'm gonna keep living through all the pain that's in store,
Her kiss is all it takes though there is so much more,
Just spend a few minutes in her arms as I've done before.

---
My Dance with You
My dance with you is getting near the end,
Hold me close and know my love I will send,
I will whisper in your ear before the end of the song,
Remember how much I've loved you, please be strong,
Clutch me tight for this may be my last fight,
You know I've fought hard and kept you in sight,
More than anyone you have understood my plight,
What a wonderful thing making love to you each night,
When the dance is over I will have my legs renewed,
I'll no longer need to vomit and I won't need food,
Be at peace my darling little angel, we will again be one,
So know I no longer will feel pain, it will be done,
Hold my hand during this dance as you've done before,
Know this, Patti, I've always begged for one more,
Kiss me again and set my soul afire as only you can,
Remember I love you now and I loved you when the dance began.
---
This Place of Loneliness
I see myself, so sad of expression walking in deep depression,
Wanting to find my way, to halt my world of desperation,
So tired I can hardly pull my feet forward to take a step,
Thinking of all the lonely nights that I've cried and wept,
This place of loneliness, darkness because she isn't here,
I remember days of past when my angel was so near,
She took the first step through heaven's door,
It will never again be as it once was long before,
I look up to say a prayer and rain pelts my crying eyes,
Will this broken soul ever again see clear blue skies,
A shuffling walk that hardly moves me forward is all,
That's left if I need to slowly advance other than crawl,
Am I still a man or am I a being of lost sad existence,
Will the darkness lead to such a desperate place,
That I can stop crawling and rest in my final destination,
If she isn't there then I keep crawling in desperation,
Ten years now that I've been in the darkness of life,
How desperately I want to be reunited with my wife,
Who could have dreamed I would be here today,
She's gone, I'm all alone and I've lost my way,
What a sad, sad tale to tell to those that want to hear,
In the darkness I look around and there's no one near,
What a broken dream, what a sad broken dream,
It seems I'm standing at a sad, tear-filled stream,
Perhaps soon our eyes again will meet,
I know it won't happen on Andy's lonely street,
My heart beats weakly but sadly it does so each day,
A bad thing to say but please stop beating, I pray,
The memories ride my mind to the next place of sorrow,
I loom from the shadows of dark days and broken tomorrow,
Perhaps soon all the pain and misery will call my name,
To be reunited with her and end all of my pain,
At last, thank God, I feel a hard broken pain in my chest,
I thank you so, I get to finally see her and rest,
The brightness of day is breaking through the darkness,
Heaven is here, I feel her soft tender kiss and caress.
---
Goodbye to Family
Today is the day to say goodbye to family, friends and all,
Are you happy in your treatment of me or did you stall?
It travels both ways; it is a two-way street,
Do you think somewhere in the middle we will meet?
Lay my casket down and take it ever so slow,
It's the last you have to do for me then you can go,
I tried very hard to do my best for each of you,
I know I failed some; there were things I couldn't do,
I was so ill so many days and couldn't lift my head,
For you to come see me, I have to be dead,
Don't mean to sound bitter but I made it on my own,
Older brother fought a lot of illness and died all alone,
Most of you have no idea what was wrong with me,
My oldest brother thought I was healed, he just couldn't see,
I did have two sisters that cared and checked on me,
They were unselfish and truly prayed for me to be healthy,
Most of my brothers were good people, just so busy,
One embarrassed me in a group one night, my dyed hair he wanted all to see,
That's the way it goes with my family,
Now it's done, all you have to do is bury me.

---
Will I Be Allowed
Will I be allowed to stand tall, dear Lord, when I come home,
Will my leg muscles be healed so I can walk on my own,
Please allow that, O' Lord, and if possible take away the shake,
It'll be so wonderful if my legs and feet don't hurt every step I take,
Once again will I hear the sound of hearing no sound,
It'll be so wonderful when there's not always a high squeal around,
No more seizures to take who I am away with a violent shake,
No more embarrassment from that Tourette sound I make,
After a seizure the fear of not knowing who I am when I wake,
The fear in people's eyes and the nasty remarks they make,
My poor sweet little wife trying to shelter and protect my being,
She tries to hide my shakes to keep prying eyes from seeing,
Will I again move my bowels each day in an unpainful way,
Healing those five shattered discs would allow me to run and play,
What kindness it would be dear Lord to no longer vomit after a meal,
To rid my skin and scalp of psoriasis so I no longer peel,
Liver and kidney stones have taken a toll on my life,
Worse yet watching me suffer is hard on my wife,
Rid me of those and diabetes insipidus would help me so,
No vomit and constant urination mean no containers where I go,
The pain of irritable bowel is not going to be a thing I miss,
The only thing I'll miss is Patti and her sweet little kiss,
Internal bleeding from the AVM's arterial rupture causes harm,
If they are gone death's hold will no longer be on alarm,
The swelling in my hepatic capsule takes my breath away,
It's very similar to when I had a heart attack that day,
The papillotomies removed the sphincter of ode,
Before then my biliary tree felt as if it would explode,
My gallbladder is long since gone and no gall is there,
I've had so many different stones, I no longer care,
Is it possible, dear Lord, to repair a wreck such as me,
Will pain ever leave me will my poor body ever be free,
Arthritis is slowing me now as I try to write this down,
I'm going so deaf that I hardly hear music or even a sound,
This pain and misery is really something I'm willing to bear,
As long as I know each day, that when I wake, she will be there.
---
I May One Day Be Silver
I may one day be silver, Patti; next to you, baby, I'll never be gold,
I have given myself completely for you to have and hold,
I've tarnished so many things accidentally with my touch,
I would never intentionally harm you baby, I love you too much,
Flying on the wings of an angel one night so very high,
I realized that night you were my angel it didn't get by,
I'll give you my finest treasure but quite sadly it's only me,
I almost offered years ago in a drunken stupor to let you be free,
I tried so hard in life, my angel, but something held me down,
Don't get me wrong, my darling, I always want to be around,
In my darkest hour I was crying in desperate physical pain,
I have caused you so much worry; it's very hard and plain,
The heartache and worry my health has brought you isn't fair,
I can endure it for one simple reason, "to always be there,"
Thought you had a warrior but I had been already beaten down,
And you my little angel were the fairest in the town,
I've truly tried hard, my darling, in hopes to guide the way,
I found out too often my tired and worn feet were made of clay,
But you've never faltered once in your love and devotion,
I promise you, my sweetheart Patti, I've had good intention,
Closest you will get to gold from me is what my teeth will hold,
You are solid through and through, you are no doubt gold,
Diamonds follow the sparkle in your beautiful angel eyes,
You open the door to heaven in clear blue skies,
On my finest hour when you answered the priest with "I do,"
That's the closest I'll ever be to gold but it was made by you,
Diamonds around me are reflected from the sparkle in your eyes,
Rose petals line your path in heaven falling from the sky,
When my final chapter is written as I lay upon that bed,
Please write, "Here lies Patti's husband," on my tombstone head,
I'll be the greatest man on this earth because you chose me,
It's too bad obscurity won't allow the world to see,
I'll take my sweet intentions with me; I'm sorry I never made gold,
Remember please, my darling, though I had my failings I was easy to hold,
I'll finally fly on wings of angels and free of physical pain,
Maybe if it hadn't been there, gold would've been easier to attain,
Though I was tarnished and aged I gave you all I could,
So easy to love from the moment I saw you as there you stood,
You gave up a lifetime for me without any complaining,
Though I never will be, I'll love you as if I'm gold with time remaining,
Being your husband is the greatest any man could be,
What a wonderful accomplishment and it was done by me,
Loving you is so easy my pleasure fulfilled each day,
I can endure the pain of illness if the good Lord will let me stay.
---
Carry On, Sweet Angel
Straighten out my tie if you don't mind, I no longer see,
Though from where I am I see those making a fuss over me,
They came back to see me one last time for my goodbye,
Though my mother's passed on, for her I want to wear a tie,
It's my birthday of a different type on this day of goodbye,
A time of sorrow and joy takes place when it's time to die,
Most will miss me I hope, although some will be missed more,
And you my little angel will miss me as you have never before,
As you wrestle with goodbye think of our first goodbye,
The terrible heartache when we tried hard not to cry,
The years of life flew because our love carried us through,
Think about it, it won't be long until I'm again with you,
Lie softly against my pillow and smell the essence of me,
Hold me tight with your love and close your eyes to see,
I will be there as always loving you with all my heart,
But now I will surround your being and we will never part,
When you feel blue remember the pain has at last let me be,
From the torment of liver and kidney pain I am now free,
Headaches from seizures and brain damage are gone,
I have regained my strength and composure to again carry on,
No harm will come to you from evil forces hidden in the night,
Soft winds laced with songbird melodies will bring you delight,
Like the conductor of an orchestra I will lead nature in tune,
I will make sure sounds of morning don't wake you too soon,
Hold my pillow tight as I will lay my spirit to feel your touch,
Know my little angel through my life I have loved you so much,
As the light of heaven's door pulls hard to draw my spirit in,
I remember like yesterday the first look that made my love begin,
The crush of a teenage boy became the lifetime love of this old man,
Upon reaching heaven I will announce the coming of an angel to all I can,
Carry on, sweet angel, live life as full as you have since our first kiss,
Kisses from an angel will be the first of many things I will miss.
Carry on sweet angel.
Though I have gone,
Carry on, carry on.
---
A Gathering Though Unplanned
Today began as no other, saw my family, every sister and little brother,
A gathering though unplanned especially arranged by my only other,
The sweet grandkids are gathered around by their parents I love so,
Please let me see the hazel eyes of the angel with me everywhere I go,
Close the door, my angel, and I will give you my heart once more,
So many journeys I've taken to return to you, the only girl I adore,
I'm adrift in a world that's unknown yet I have no fear this time,
A miracle came last night and removed every pain that was mine,
I was lifted up to be whole once more and every nightmare was gone,
I've carried the burden of being drafted and taken from you far too long,
Suddenly my mind was clear and I realized my every dream had come true,
Each memory in my timeline was a whirlwind that was all about loving you,
There's two young marrieds running my way with a smile on their face,
I heard him whisper, "I love you so much, let's hurry from this place,"
The most beautiful eyes she has of hazel then I realized she was you,
Memories so old yet of gold, my loving you came flowing through,
Your hand upon my face feels real, is it possible I've been granted more,
But the end has come at last and I can no longer pray for another four,
I feel your teardrops as they fall upon my face; please find a way to rejoice,
As I promised long ago I will love you forever, the wind will carry my voice,
I have returned to you as promised every time that I said I would,
I would return to you from this casket if there was any way I could,
War's heartache from loneliness couldn't shatter my love so very true,
Stay but a minute more and I'll find a way to dance once more with you,
Someone whispered, "it's time to go," and I'm begging that you don't go,
As long as I can see your eyes it's okay; please walk away from me slow,
Look at me again, baby, my pain is gone and I'm a young man once more,
From a bright light far away I will watch over the hazel-eyed girl I adore.
The end, by Pat
Place your photo within my hold,
You know it's my only piece of gold,
Tell all by inscribing as written by my hand,
Here lies Patricia Napier King's husband.
I love Patti.
The end. By Pat.
---
Never Forget
Never forget I implore,
Never forget when they rolled you away through the door,
Never forget I implore,
Never forget when they rolled her away through the door,
Remember how you cried,
Remember how you prayed for time the night you almost died,
The last electric fingertip touch,
The last electric moment when you needed the other so much,
Duplicate the last magic kiss,
Duplicate the last magic kiss and each day kiss to remember this,
The doctors face and what he said,
The doctors face when optimism was faint as he avoided the word dead,
Remember our Lord and prayer,
Remember our Lord and the prayers said when you touched her hair,
An hour in time was a moment,
An hour in time is but a moment when you think your life is spent,
A minute is an eternity in wait,
A minute is an eternity as you wait and pray the surgeon to be great,
For God's touch upon her you pray,
For God's touch upon him you pray, as you both prayed for another day,
Never forget the promise made,
Never forget the promise shared as you pray their departure is delayed,
Remember the moment, remember the torment of goodbye and how you cried,
An awakening of hearts to the glories of love comes forth when life is denied,
Cling to the hand you held for strength and cling when no apparent need is there,
Remember the words "I love you" and the realization of how much you truly care.
The end, for those I love.  By Pat
---
Beautiful Teardrop of My Love's Saddest Day
Every day is a celebration of loving you,
My heart gives thanks as you come into view,
As the road winds down to exist no more,
It is you that I want to hold forevermore.
Of all earth's desire of flesh to satisfy lust,
You are the sculpted woman of men's "must,"
I've watched for years as your ignorance showed,
Men's eyes followed your sway as I glowed,
Still I will climb the highest peak we've known,
Turn my angel it is I that will let my love be shown,
I will cry inside as teardrops trace your faces form,
From your teardrops beautiful poetry has been born,
I will come running to softly lift the tear away,
Beautiful teardrop of my loves saddest day,
Befallen of the darkness was it I whom you yearned,
'Twas a night deep in goodbye when you learned,
Departures sweet sorrow will enlighten the heart,
Until sorrow breeds heartache as lover's part,
Do they know love's hold is what made them whole,
When morning brings light to find what time stole,
Desperate hearts in a desperate time of care,
Most fear knowing care within words there,
I care for you as a first response brings dread,
Before saying care again please remember I'm dead,
Loves little word of substitute is care when unsure,
If uncertainty rests within a heart love's not pure,
As I dance upon the moon in desperate wait for you,
Remember all the things for you I lived through,
A possibility world exists when love is joined by two,
As fire rains upon the lake of deep love it is for you,
From my heart fire erupts into the night air as before,
Though aged this heart is aflame loving you more,
A million miles or more have brought me and you,
To the edge of heaven's door for one to walk through,
Has times bandit taken away far too much of me,
Tell me tearful angel is it unpleasant what you see,
Don't let stars lose the twinkle of diamonds in the air,
Don't forget me my angel if a thousand more is there,
Save for another the word of lovers dread said as care,
Listen with cupped ear my angel for whispers in the air,
Stretched within the membrane of time is where I'll be,
Forever I'm embedded as yours by words written by me,
A century of prepaid words of rhyme written for all to view,
Forever when I'm gone is written how much I still love you.
---
Remember Me
Have your fingers tenderly touched my face today,
From the edge of the cliff I've stood trying to find my way,
Remember me I implore,
Do you remember each line upon my face that came unknown,
I am encased the age that is a reminder of how time has flown,
A beautiful angel at heaven's door,
Has desire set the tone of your vocal chords response to me,
Or has desire come to rest upon a branch of the cliff's edge tree,
Doesn't anything of me remain,
Do I remain in your mind's eye as the dark haired boy you knew,
Have I been enveloped by times passage as our lifeline's flew,
Beautiful should be your name,
Each land I've crossed be it by toil of war or of business too,
Though unseen by the world you were always within my view,
Don't be afraid of what remains,
Don't fear the bandits of youth if love dwells it means nothing,
Transfixed within my soul forever is the love my heart will bring,
You are beautiful, my fire remains,
Put your face to touch upon my face and look deep into my eyes,
Do you see cause to pause or do you see love and all it implies,
Love is within forever I am here,
Forever I am here to be yours as the days pass one by one,
Is there reason to fan the flames of desire or should it be done,
You are beautiful from afar or near,
Upon completion of my journey will my reward be of loving you,
Unless I am given pleasure of you then my time should be through,
I'm desperate in need of you,
Desperately we cry out to our youth to remain within our hearts desire,
Uncertainties fall at the wayside when flames of desire are in the fire,
Others see you are beautiful too,
One day near I fear awakening will come to but one with age,
The cold flesh upon our spouse's face will need no temperature gauge,
A tear will fall to become regret,
When last you kissed their lips was it the kiss of last goodbye,
Did your heart fill with loneliness you knew would come as you cry,
Beautiful girl I will never forget,
Where my parents are I will be in wait of you after I'm placed to rest,
At heaven's door I will stand in wait of my angel in a Falcon upon the crest,
Remember me I implore,
Remember when we were eighty that seventy felt as if nothing was wrong,
Full circle came so quickly, don't let age be where age doesn't belong,
More beautiful than before,
Remember me I beg of you now don't let storms wear away the base,
Doesn't anything of me remain that makes you want to love me anyplace,
Don't be afraid of what remains within your passion if any remains for me,
Love is within forever, I am here forever to hold you and if needed to plea,
I'm desperate in need of you, before timbers fall let sounds of allure be heard,
A tear will fall to become regret unless each ounce of love flourished in word,
Remember me I implore, allow passions flow no matter of your health or how old,
Remember me I implore, if too late one final kiss of goodbye while in your hold.
The end, by Pat for Patti
---
Silently I Will Stand in Wait
Come to me close my dear and whisper once more in my ear,
Tell me once more how you first loved me when you were a teen,
Remove this tube from my mouth that one last kiss of you I may glean,
Remind me please of how you still loved me when I came home lean,
Bring close your tender lips as you did so many years ago,
Do you remember it my angel it was the first kiss of love I'd know,
How could you still love me after I went to battle in the Vietnam show,
Yet you cleansed my blood stained heart and hands that faded slow,
Tell me of your first memory of that dark haired teenage boy,
In one of my dearest memories you seemed a beautiful little toy,
The moment our eyes entranced, past memories seemed to buoy,
I suddenly understood as past life memories were in fast deploy,
Squeeze my hand so slightly as you tell them to pull the machine away,
In the hold of my morning angel with sunlight or moonbeams astray,
Whisper words tenderly to hear "I love you, I've always felt this way"
As I have done this before my heart will break before I'm there to stay,
I have returned to you at least five times while between life and death,
I've watched you sob so uncontrollably you could hardly catch a breath,
Time is more narrow now than when first married let's not forget,
The years to departure have lessened now until your soul too will let,
Five times I've lingered 'tween heaven n' earth praying to return to you,
My body has aged to be broken beyond God's willingness to redo,
God has granted me more time than rust should stand near gold's glow,
The rust of my being is beyond time's ravage and what doctors know,
The hand of Jesus Christ has protected me through life so many times,
As I review my life I should have written more of Him in prayer rhymes,
I will be accepted as the wayward prodigal son although I'm with sin,
I have since then accepted Him and asked forgiveness deep within,
As I have asked of God I also ask of you my angel so wonderfully true,
Please forgive this rusted worn soul for the harm of heart I've done to you,
My heart has been yours for as long as I have known your beautiful eyes,
Within my heart there is no equal to your beauty under God's blue skies,
I have stopped at the threshold and prayed once more but time is denied,
Beyond this world I will pray for you and watch over you after I have died,
I vowed my love to you long ago without a soul nearby to hear as I cried,
I cannot take my piece of gold this trip, my photo of you will be denied,
I'll frame a treasured memory in heaven's gold and hold a seat for you,
Roses of red, pink, and plumb will be planted for my angel to view,
Silently I will stand in wait as angels welcome angels home to stay,
I will pray the welcome home ceremony won't last more than a day,
Although eternity awaits in your hold, impatience may be my shame,
Yet will come a kiss to equal the kiss of love fore you took my name,
Perhaps there is a ceremony for love reunited to eternally bond,
Or perhaps within heaven's surround our vow is a bond far beyond,
Please hold my hand and warm your cold little nose again for me,
When you first did that I thought you were as cute as you could be,
Please remember the ear warmer God gave you that's made of me,
Kiss me tenderly, squeeze my hand, then whisper I…………………
The end, I love you Patti
---
Love Going Home
Look one last time to find the depth of her soul,
Don't shed a tear he tells himself of his silly goal,
Gaze deep into her eyes as though the first time,
He sees her as perfect of profile, to him sublime,
The pedestal she has stood upon is made of him,
Ninety years of endurance has left him very thin,
Yet he remained though called home time 'n' again,
Victory to her admirer was one more second to win,
Behind closed doors he sobs and regains composure,
Look at the two of them, true love doesn't know closure,
He would endure anything to gain one more day for her,
Her pretty smile brings him to his feet although it's torture,
He allows no others to bring water to quench her thirst,
She whispers softly that she will know the glories first,
Unable to contain himself he holds her and cries aloud,
Sweet husband for seventy years you've made me proud,
Prayers of love can bring more in return than known,
To the last moment extreme love for the other was shown,
Her last breath is drawn but as family lifts dad it's known,
The two have flown together to find their heavenly home.
The end, by Pat. I love you Patti

---
Will These Words Bring Comfort
Will the words I write today bring comfort to you someday,
Know this, my special angel, you are what I lived for each day,
As morning light came to be I knew you'd be smiling at me,
Through the years I failed to say how you made me so happy,
Each night as darkness came I looked forward to holding you,
From you came my happiest moments if you were in my view,
To see you was a pleasure that is impossible for me to explain,
It's hard to understand how a woman so beautiful wasn't vain,
Yes I put you on a pedestal, to me there was no other place,
I've loved every inch of you from your little body to your face,
You have a little girl cute inside of you that I enjoy holding tight,
For over forty six years it's been my pleasure to hold you at night,
Pain has had no meaning because your love took the bad away,
It is for you I fought to survive that I could enjoy you every day,
It's true that we must have the other there can be no other one,
Each day my love for you will grow stronger until my time is done.
The end. By Pat for Patti, I love you.