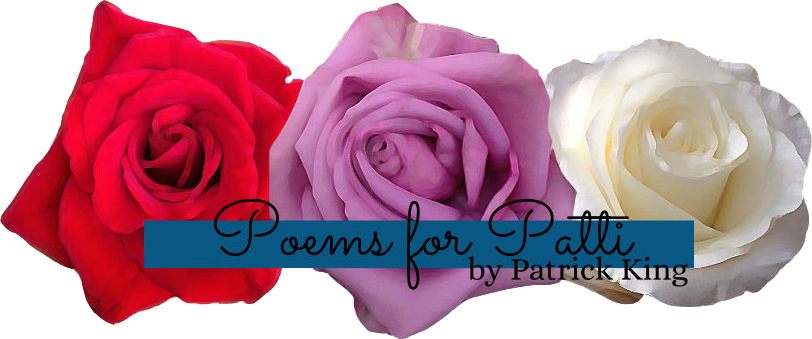 Reader Comments

We love hearing from our readers.  Please take a moment to tell us what you think by submitting a review.
Poems for Patti
Average rating:
6 reviews
Jan 26, 2017
Transendent Journey
I greatly enjoyed the depth of Transendent Journey.
Sep 24, 2015
Poems for Patti
Hey Patrick,

I love your poems and devotion! I like to write poetry about my Patti also.

I'm just sorry I didn't get to spend the rest of my life with her as you have!

-Ron
Sep 15, 2015
What passion of the heart for the one you love in so many heart felt ways. I am losing my beloved wife to the ugly of cancer and am inspired just reading wonderful ways to open my heart through the beautiful words you have written! Just reading some of these poems to her just makes her light shine! Thank you for writing beautiful art such as this!
Dear Steven, I was so deeply moved by your comment. My heart truly struggled to beat as I was overcome with empathy and a need to reach out to you. Patti came to me with tears running down her face as she asked me to read it. Please don't take this wrong but through another man's heartbreak comes my greatest honor. Never will I be so honored again. From expressing my love for Patti comes this unexpected gift. -- Pat King
Jerry Cooke (female, Boys name !
Aug 14, 2015
lI read with tears in my eyes about the Love you shared with Patti - you have both been blessed......(I tried to give you a 5 star rating, but the stars would stay highlighted. ) Lets makeit 10 stars !!! Thanks,
Thank you for the amazing review, Jerry. I'm sorry you had issues with the star system. I adjusted them on this end for you. - Susan, Admin.
Jun 3, 2015
I've enjoyed reading your poems. You can really feel the love.
Jun 3, 2015
Beautiful!
This is such beautiful poetry. Love what I've read so far and look forward to reading more!